EMBLEMS OF STRENGTH
Powerful symbolism abounds in the Fall/Winter 2016 pieces from the eponymous label of celebrated Vietnamese designer Phuong My. Lamé embroidery forming the rising sun is a metaphor for new beginnings; oral elements demonstrate growth; while alternating dots represent non-stop effort – all this imagery alludes to the extraordinary life force within a woman's soul that has yet to manifest itself. The strong messages accompanied by equally solid tailoring and a lush palette of green (for vitality), amber (for the desire to assert oneself) and pale blue (for hope).
1.Silk-polyester dress, Phuong My.
2.Silk-wool dress, Phuong My.
3.Brass charm bracelet, Salut de Miel.
4.Jeu d'Amour L'Elixir EDP, Kenzo.
Practicality and versatility are key to Weekend by Max Mara, a label which was launched in 1984 as a casual outdoor line for the weekend, as its name suggests. is season's knitwear, shirts, peacoats and du e coats in linen, cotton, crêpe de Chine, cashmere and tweed as well as the range of accessories (including shoes, bags, belts and shawls) live up to the brand's mission to provide "formal informality" to your get-up.
1. Sterling silver Fashionably Silver ring, Folli Follie.
2.Rose-gold earrings, Stone Henge.
3.Polyester Plasticcino maxi clutch, Weekend by Max Mara.
PAST PERFECT
A marriage that never disappoints: vintage style with a contemporary spin. This season's bohemian dresses, lace culotte pants and multicoloured knits from Marella are a perfect example of that. Sparkling red-carpet numbers and lush coats in modern silhouettes round off the collection.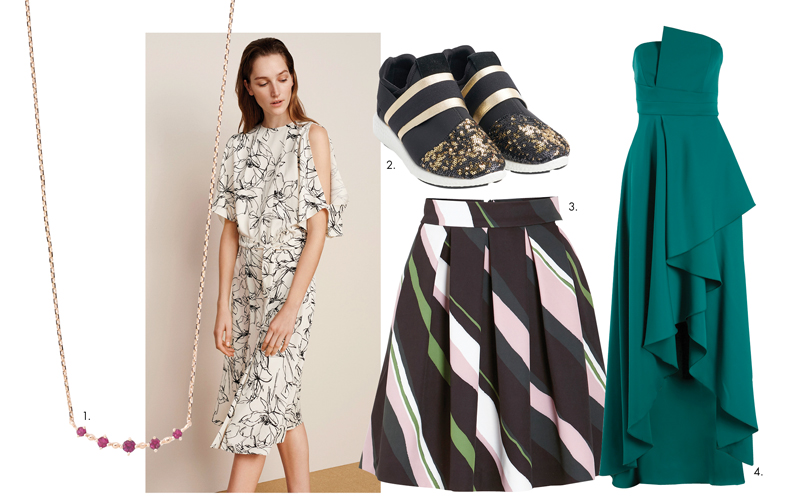 1.Rose gold necklace, Stone Henge.
2.Sequinned neoprene Neo sneakers, Marella.
3.Printed stretch cady Odette skirt, Marella.
4.Satin Campana bustier dress, Marella.
VIVID, VIVACIOUS
Life is all about making choices, especially the right ones for your closet – and no one knows that better than French label agnès b. is season's Femme Fall/Winter 2016 collection comprises sophisticated essentials that range from versatile separates to luxurious oversized coats in cashmere and alpaca, and come in a vibrant, multi-hued palette evocative of cosmopolitan Paris.
Wool crêpe coat, and viscose top and pants with print by Electra Egglestone, agnès b.
SPRY STYLE
If you want to make a transition into a more youthful, eclectic style, MAX&Co helps you do it with elegant ease, thanks to the luxe fabrics, thoughtful details and tailored cuts found in this season's collection of A-line dresses, boho ponchos, patterned jumpsuits and pleated skirts.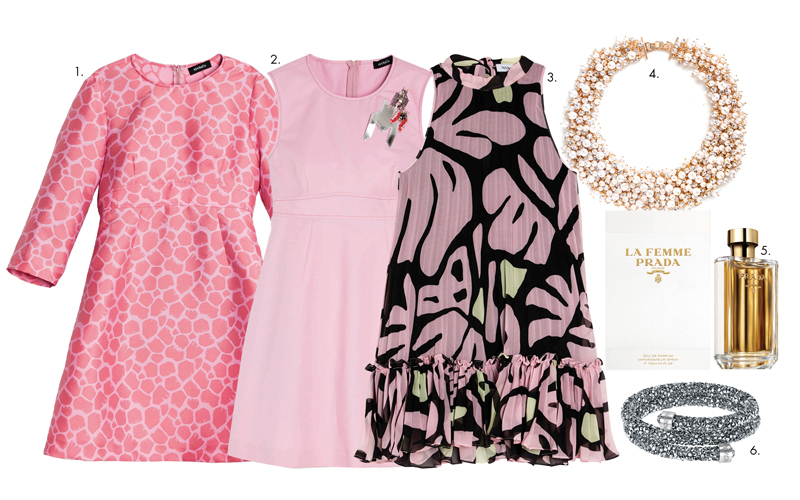 1.Jacquard duchesse Parigi dress, MAX&Co.
2.Cotton appliqué Palermo dress, MAX&Co.
3.Printed chiffon Panacea dress, MAX&Co.
4.Gold-plated Cinderella necklace with crystals and costume pearls, Arium.
5.La Femme Prada EDT, Prada.
6.Crystaldust bangle with chrome-effect crystals, Swarovski.
GRAND DESIGNS
The allure of the Fall/Winter season surfaces most evidently in the alluring necklines, soft silhouettes, and powerfully feminine patterns and prints of the new collection from Milanese label Naracamicie. The best part: Neutral hues and stark monochromes make the line super wearable for the boardroom and über-sensual for the evening.
1.Agate rose gold-plated bracelet, Monica Vinader.
2.Goldea EDP, Bulgari.
3.Rose gold-plated Chance Day Watch, Mauboussin.
4.Cotton shirt with lace embroidery, Naracamicie.
5.Polyester top with lace embroidery, Naracamicie.
QUEST FOR PERFECTION
Facetious though the Mission Impeccable campaign for the Ted Baker Fall/Winter 2016 collection may be, it is undeniable that the clothes are immaculate. Gorgeous oral, modern houndstooth and bold geometric prints act as a perfect counterpoint to the choice of fabric: wool-blends, tulle and frayed bouclé. We think a mission to look this flawless should be anything but kept secret.

1.Polyester dress with lace bodice, Ted Baker.
2.Polyester maxi dress, Ted Baker.
3.Polyester dress, Ted Baker.
FIT FOR FASHION
This should silence the fashion naysayers who harp on about comfort not being a style. Japanese brand B-three prides itself in its special textured weave and stretch technology that it employs in the construction of its trousers that promise to facilitate movement whatever your posture. And, like makeup on your legs, the technique creates mottled shadows down the trouser legs and to make your gams look longer.
1.Rose Goldea EDP, Bulgari.
2.Brass necklace, Salut de Miel.
3.Shiny Shadow Straight pants, B-Three.
ARTISTIC FLAIR
The special link between fashion and art manifests itself in the latest from Italian label Maryling. Inspired by Surrealism, the Fall/Winter 2016 collection pays tribute to the fantastical spirit of Salvador Dalí. Think geometric patterns, whimsical prints, a surprisingly pastel palette reminiscent of Dalí's and very modern yet feminine shapes.
From left: Printed polyester dress and jacquard dress, Maryling.
STORY TIME
The fantastical world of Alice in Wonderland comes alive in the Fall/Winter 2016 collection from MyMy by Phuong My. The diffusion line of Vietnamese designer Phuong My's eponymous label sees familiar motifs (think silhouettes of rabbits, butterflies, cakes and forests) from Lewis Carroll's beloved tale rendered in a charming pastel palette and combined with abstract geometrical shapes.
1.Hair clip, Alexandre de Paris.
2.Assorted jewellery, Thomas Sabo.
3.Polyester dress, MyMy by Phuong My.
4.Polyester jacquard dress, MyMy by Phuong My.
5.Polyester- spandex dress, MyMy by Phuong My.
Tags: Agnes b, Alexandre de Paris, Arium, B-three, Bulgari, Folli Follie, Kenzo, Marella, Maryling, Mauboussin, MAX&Co, Monica Vinader, MyMy by Phuong My, Naracamicie, Phuong My, Prada, Salut de Miel, Shopping, Stone Henge, Swarovski, Takashimaya Department Store, Ted Baker, Thomas Sabo, Weekend by Max Mara