What do you get when three makeup and hair veterans – who have worked with local celebs like Zoe Tay and Kit Chan, and fashion It Girl Fernanda Ly – come together? The FAC3INC collective, consisting of John Lee, Peter Khor and Rick Yang, who have accumulated a whopping five decades of industry experience among them. Together, they hope to offer professional services in the beauty industry and train the next generation of makeup artists and hairstylists. Follow them on @fac3inc on Instagram and at fac3inc on Facebook for behind-the-scenes photos and more.
Meet the power duos
Call us ambitious, results-driven, dedicated to the beauty cause or plain greedy – your humble serum or contouring foundation is no longer enough. So pair it with the right gadget to power it further.
GIVE ME A LIFT
The product
Perk up tired, ageing skin with the lightweight, quick-absorbing Clé de Peau Beauté Le Serum ($420) which has amino acid-rich yeast extract and chai hu herb extract.
The gadget
We like how the NuFace Trinity Facial Toning Device ($536) uses micro current technology to give your face a workout so that skin cells regenerate faster and collagen and elastin levels get a boost. The gadget comes with three interchangeable attachments that can also target wrinkles and the more delicate eye and lip areas.
BRIGHTER, BETTER
The product
Alcohol-infused toners may be too harsh on sensitive skin. So use a lotion like Shiseido White Lucent Luminizing Infuser ($85) instead. It is said to have an ingredient derived from Japanese cherry blossoms and promises to give you clearer, softer skin.
The gadget
To enhance the absorption of skincare ingredients, use the SkinInc Optimizer Voyage Tri-Light ($398) which uses LED Chromotherapy and low frequency current stimulation.
V FOR FACE
The product
Dubbing itself a "doctor in a bottle", the Estetica Vitalift A+ Miracle Lift Serum ($280) is said to have ingredients like snake venom. The purpose? To give your face an instant botox-like treatment and make your skin more taut immediately.
The gadget
Besides flaunting tighter skin, you'll also want a more V-shaped face. Massage the serum into skin with the YSL Beaute Forever Youth Liberator Y-Shape Massaging Tool ($129), which can be used on the face as well as the neck and décolleté. The face massager will help the serum to penetrate better and it is supposedly made of a material that helps to reduce water retention.
EXPERT FINISH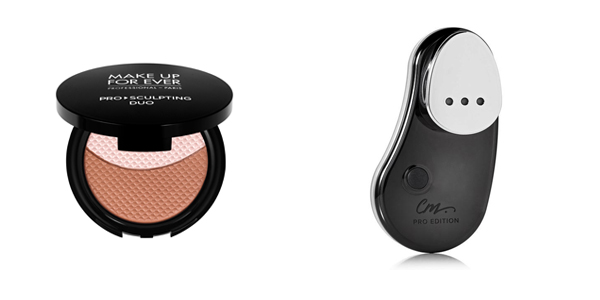 The product
This is a contouring fan's dream come true. We're talking about the Make Up For Ever Pro Sculpting Duo ($68). This lightweight gel-powder blend comes in a duo of highlighting and contouring shades and leaves a traceless, iridescent finish.
The gadget
Swipe the Colorme Pro Edition ($93) makeup applicator over the sculpting duo compact and buff, blend and smooth away. It works with makeup of different textures, from liquid to power and cream. The applicator mimics the finger-tapping techniques that makeup artists use to apply foundations and powders. It also promises to let your makeup last for eight hours.
Tags: Cle De Peau, Colourme Pro Edition, Estetica, Make Up For Ever, NuFace, Shiseido, Skin Inc, YSL Beaute